We've been here before…
"The things that really change the world, according to Chaos theory, are the tiny things. A butterfly flaps its wings in the Amazonian jungle, and subsequently a storm ravages half of Europe." – Neil Gaiman
In two weeks as of this writing, Tom Brady will have appeared in 15% of all Super Bowls to date.  He's already won 5.  The only thing that seems to be able to stop him is one of the Manning brothers, and since he didn't meet one in the AFC championship game and will not meet one of them in the Super Bowl, we can expect him to collect his 6th ring.  I say good for him.  Yeah, if you're not a Patriots fan you're probably just a little fatigued with it at this point, but you can't be mad at the man for trying, and since none of his current teammates were there in 2002, you can expect them to play like… well, like they're in the Super Bowl.
And we can all thank a butterfly by the name of Morris Lewis.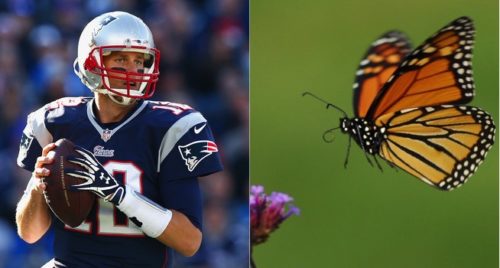 September 23, 2001, Foxboro Massachusetts.
With 5:03 remaining in the fourth quarter, Jets linebacker Mo Lewis plowed into Patriots quarterback Drew Bledsoe along the right sideline. Bledsoe made a tremendous effort to continue, but internal injuries manifested themselves almost immediately, forcing him to the locker room. It was left to backup quarterback Tom Brady to finish the game, an anemic 10 – 3 loss.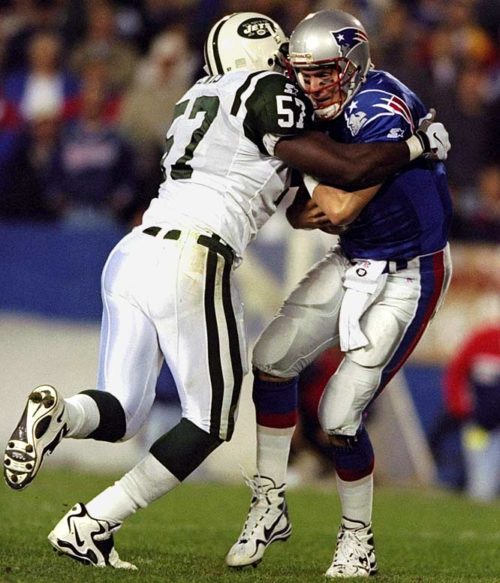 The Patriots began the season 0 – 2. With Tom Brady starting as quarterback, they managed to win 11 games, clinch their division, and go on to beat the heavily favored St. Louis Rams in the Super Bowl.
Bledsoe, in spite of a one hundred million dollar contract extension, never got his job back.
The rest as they say…
To offer some perspective, Morris "Mo" Lewis, while certainly not a household name, is hardly an underachiever. Lewis spent 13 years at the top of his profession, all of them with the Jets. Let's provide a little context on just how good one has to be in order to play in the NFL.

Pop-Warner or Dwarf-Giraff Leagues.
Community football.  Kids having fun.  If you want your kid to play in High-School, you start him here.
High-School Football.
Brings out the worst in everyone.  70-year old men yelling that the kid on the opposing team is faking his injury and should be called for delay of game.  Moms who can't be content with cheering for their kids but have to jump up and down on the bleachers screaming.  Dads asking the ref if the flag is safety-pined to the inside of his pocket (ok, that was me).  If you have nothing else going on in your town, then all your hopes and dreams live or die here.  You know if I'm talking to you.
College Football.
This is when it get serious.  Let's be honest.  Any college counting on its Transgender Studies program to bring home the bacon is going to end up poor.  You're already stupid for having the department.  Being poor and stupid just opens your University up to well-deserved mockery.
If you're not one of the 8 Ivy League Schools, and you don't have a decent athletic program, and your federal funding isn't keeping up, you'll end up like Antioch College.  (Wait, who?  Exactly).
The Pros.
Several levels here, but we're generally talking about the National Football League.  The NFL serves as the gold standard for human genetic development, and athletic performance improves every season, even if only by increments.  The 2017 Cleveland Browns who went 0-16 would wipe the floor with the 1985 Bears, the 1972 Dolphins, or the 1968 Green Bay Packers.  Any number of rookie quarterbacks who were cut in training camp would out-play legends like Bart Star, Y.A. Tittle, or Bob Griese.
Levels Within Levels.
Within the NFL, there are degrees of good.  The guys you never hear about hold most of the records at their colleges, and were positively legends in High School.

If you were not a superb player at the collegiate level, you would not even be considered for an NFL team.  Each year, tens of thousands of first-rate athletes compete for the 1,696 spots among the 32 teams.  Most of the players who make an NFL roster will last less than 3 years.
The truly magnificent and vanishing few will rack up a career spanning ten years or more along with the accompanying money and endorsements.

The NFL made it to 90 years with the "Greatest Quarterback of All Time" debate unresolved.  It was fun, because one could use all sorts of criteria.  Hey, for a while Ken O'Brien, yes Ken O'Brien of the Jets was ranked number 10 all-time according to the NFL's own passer-rating calculation.
When it came to wide-receivers, the joke was, and still is, identifying the second all-time greatest because no one argued that Jerry Rice was the best.
Best Quarterback?  Sigh.  Yeah, it's Tom Brady.  He sits alone at the top of the pyramid.  A few years ago he was sharing the space.  There are a few athletes – very few – with cross-over appeal.  There are players who transcend the game, become household names to those who otherwise have not interest in it.  Names like Joe Montana, Terry Bradshaw, and Joe Namath became known to all.  For a time, Brady sat there with them, and then inched his way past, one throw at a time.
You can't hold it against him, because like every player from the pee-wees to the pros, Tom Brady is simply playing as hard and well as he can.
A Little More On That Other Guy.
I don't expect Tom Brady to have a shrine to Mo Lewis in his living room.  Mo Lewis was doing his job, and Drew Bledsoe might have slid to avoid the hit.  Could've, should've, would've, huh?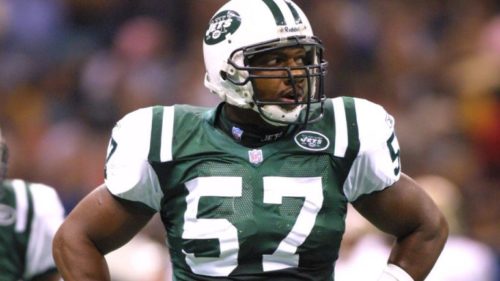 If Lewis had played on a better team, we would be mentioning him in the same breath as Lawrence Taylor, Jack Lambert, or Dick Butkus.  Those are the kind of numbers he put up. Never-the-less, Hall of Fame Ballots filled out every year.  Float, Butterfly.
Selah.