It was one of the most memorable episodes in our story. And yes, Handel's Messiah was the focus.  It was our first Christmas as a young married couple. Lois asked me if I would pick up some Christmas music on the way home from work. This was back when music stores were a thing.
But hold on.  I'm getting ahead of myself.
Some Background.
I was 14 years old when I first heard Handel's Messiah live and in it's entirety. My sister attended Kings College, which was then located in Briarcliff Manor, NY. A talented musician, she played the violin in the orchestra.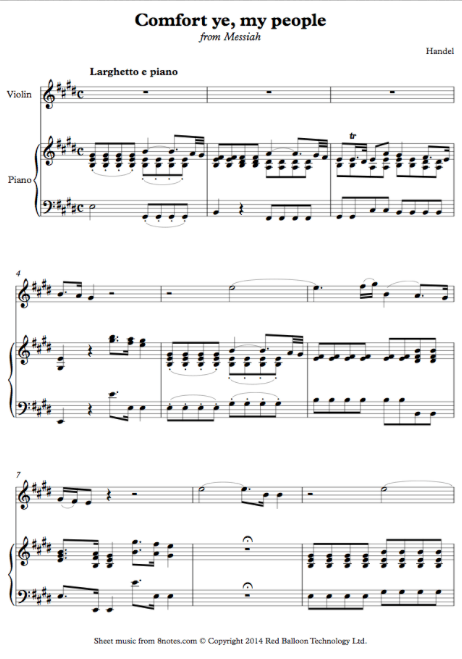 As the youngest child, I was still getting dragged to all her… stuff.
Let's be candid. Handel's Messiah, in my never to be humble opinion, is the greatest Christmas cantata ever written. It's also rather taxing. And not every movement is a masterpiece. To this day I don't know if I would want to sit for the entire work. For a 14 year old boy, well…
But the second movement – the soloist left me… wow. Maybe it helped that this particular tenor was awesome. I don't know who he was, but thanks to this fellow's perfect pitch, my love for classical music in general began right then and there.
The second movement from Handel's Messiah is taken almost verbatim from Isaiah chapter 40. In the right hands, or should I say with the right voice, it is one of the most pleasant things for the ear.
Comfort ye, comfort ye My people,                                                                                                  saith your God.
Speak ye comfortably to
Jerusalem, and cry unto her,
that her warfare is accomplished,
that her Iniquity is pardoned.
The voice of him that crieth in the wilderness
Prepare ye the way of the Lord.
Make straight in the desert a highway for
Our God.
Back to us…
We rented a 3-bedroom apartment on the second floor of a two-family home in Richmond Hill, Queens. We were young. Really, really… young. And communicating with each other was something we were just learning.
I stopped on Austin Street in Forest Hills to pick up a double CD. Upon arrival at home, I proudly presented my wife with a copy of Handel's Messiah. The mighty hunter, throwing the saber-tooth tiger at his woman's feet, anticipating her delighted squeal. I was not prepared for her frown of puzzlement. Even less prepared for the look of utter disappointment in her big-doe eyes.
"I thought you were getting Christmas music."
"This is the greatest Christmas music ever written." I replied, all urban sophistication. My puzzlement was at least equal to hers.
"No, I meant – you know, Andy Williams. You know, Christmas music."
Now we were just talking past each other and it was my turn to be disappointed. How can this lovely, smart girl I married be so…? Sigh.
Regardless, genetic programing overrode social conditioning. In other words, the desire to please my wife pushed out everything else. That weekend we went Holiday shopping and among our haul, was a copy of Andy Williams' Christmas CD.
Thirty years later I have acquired an appreciated for Andy Williams.
And my wife will tell you that she loves Handel's Messiah.
Selah.