It's Going To Get Ugly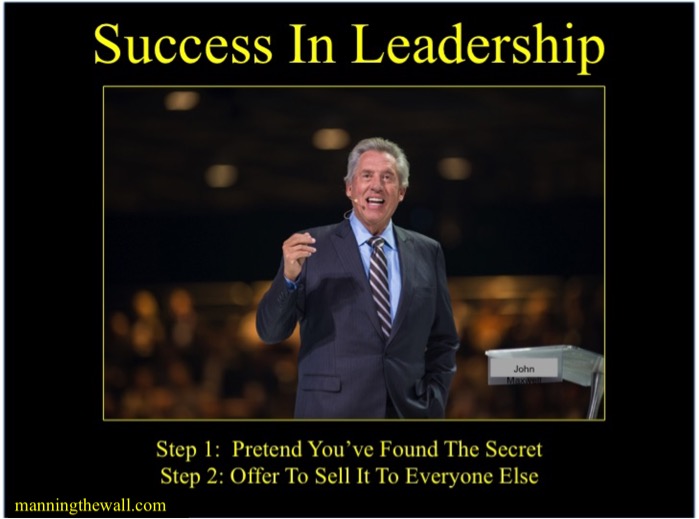 This is going to be a brutal take-down.  The self-help and management gurus have a lot to answer for.  Of course, if you set yourself up as a great thinker or theoretician, be prepared for some criticism.  But mostly, don't be a fraud.
Here are some items of which I'm just a little embarrassed to have on my shelves.
The 21 Indisputable Laws of Leadership, Maxwell, 1998.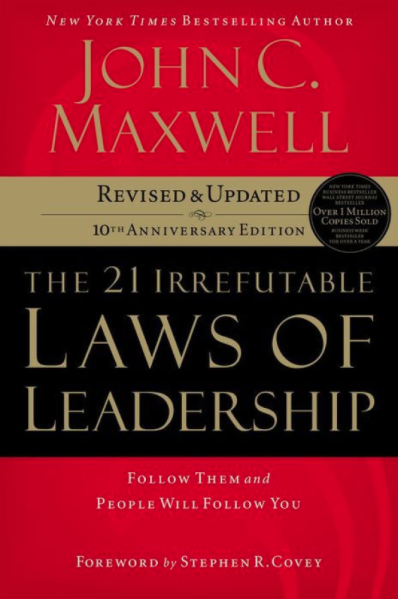 OK, technically this is no longer in my library since I threw this out en mass with all the other nonsense of Maxwell's that I had in my possession.  I started buying his books in the late 90s during a period which I can only describe as my "Stockholm Years."  I was working for an abusive boss who swore by Maxwell, so glugging down the Kool-aide, I figured sure, 'me too.'
If the right people end up writing history, then John Maxwell, will go down as the single biggest con-man in the neo-con era spanning the late 20th and early 21st centuries.  Maxwell's secret to success in leadership?  "Get people to 'buy-in' to your leadership."  Yeah, that's it.  Of course as with all management gurus, Maxwell is pretty short on methodology, execution, and specifics.
Maxwell has no shortage of cringe-worthy anecdotes.  One particularly shameless recollection from his early career as a young pastor is particularly saccharine.  Maxwell felt he needed one particular influential deacon on his side, so he shows up one day to help with the gardening.  Yup, that's it.  And of course he was always careful to solicit this deacon's opinion at every board meeting.  Ooh, take me Darth Sidious.
Then of course there is Maxwell's full-throated approbation of Enron's management (in a subsequent book).  Remember them?  This now-defunct regional energy company infamously inflated it's stock price by recording sales to its own shell companies.  Nice, John.  Nice.
Truly one of the foremost grifters of our age, Maxwell epitomizes the genre of "pretend you've discovered the secret to success and then offer to sell it to everyone else."  Tony Robbins could sit at his feet.
The 7 Habits of Highly Effective People, Covey, 1990.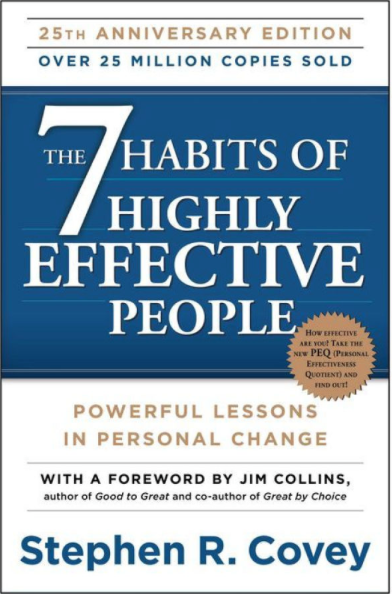 I've done plenty to embarrass myself.  But there are few facts that I could tell you about myself that are more embarrassing than that 14 years ago, I actually spent $70 on a Franklin Planner.  Yeah.  I.  Did.  That.
The 7 Habits of Highly Effect People is still a good read.  Covey's follow-up books Principle Centered Leadership, and First Things First aren't bad either.  Full of common sense and wisdom, if a little dated, I can't say they were a complete waste of time and money.  But it all boils down to this: if you want to get things done, make a list.  Even as Covey tries to convince you and convince himself that 'this is so much more than making lists' that's really all it is.
At the beginning of the day, or the night before, make a list and prioritize.  That's the entire book.
Who Moved My Cheese?, Johnson, 1998.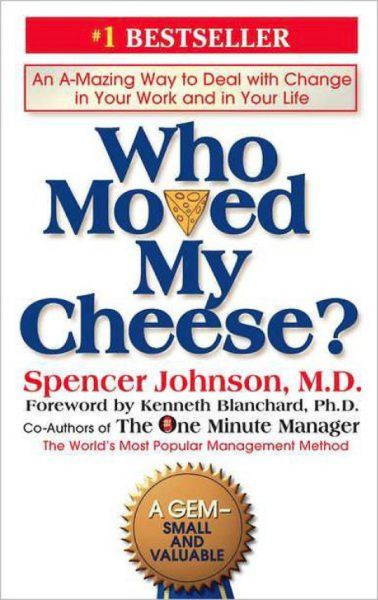 Condescending only begins to describe this pamphlet.  A favorite of Corporate America.  This was purchased by the crate by companies during the 90s and 00s for distribution just prior to massive downsizing and lay-offs.  The essay is presented in the form of an allegory.  The target demographic are those who showed up day after day to their soul-crushing jobs.  The message is easily understood: Don't expect your years of loyalty to be returned, kindly move on, and pardon the security guard for watching you as you clean out your desk.  The mass-purchases of course served to exponentially inflate sales.  WMMC may go down as possibly the worst management/self-help book of all time.
Dishonorable Mention
The One Minute Manager, Blanchard/Johnson, 1982.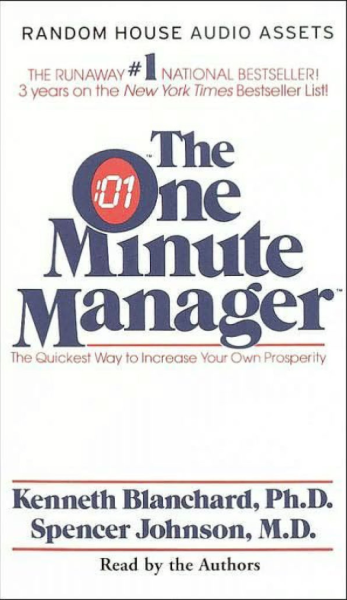 In short: heavily plagiarized and full of non-insights.  Some borrowing and re-treading from Jung and other post-Freudians.  $5.95 I will never get back.
In comparison, Sun-Tzu's The Art Of War may be full of obvious reflections, but at least he was the first to write them down.
my recommendation…
One principle that stuck with me from 30+ years as a corporate manager and military officer: don't bring a problem without at least bringing a proposed solution.
If you want some un-common common sense management advice for both functional living and business, you can't do better than Aaron Clarey's blog.  Full disclosure: I don't know him, never spoken to him, and I take no money from him.  So there.
Selah, Baby.