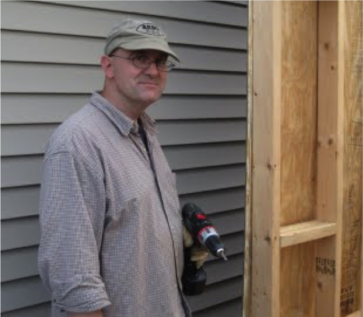 Labor Day
I know the communists marched over 110,000,000 people to their deaths in the last century, but they did get us a day off in September, and that has to count for something.
My Plans for Labor Day
I'm not going to get it all done. But that doesn't mean I shouldn't try. We're renovating the home office – a room I pretentiously named "The Library" ten years ago for reasons I will get into one day. So, I need to get a deposit over to Lynn (don't get cute, he's a guy) at Forest Inn Kiln. Yes, a few miles from my house, there's a wood kiln. This is Pennsylvania.
We're doing this on a budget, so we're making a lot of the furniture ourselves. Lynn is going to fabricate the top of a partner's desk for us out of maple. In the meantime, I got out my miter saw after work one day this week and made a placeholder out of plywood. The computers need to be moved over to the new area. We were at Lancaster this past weekend picking up a pair of pinewood file cabinets. Would have preferred oak but that would have been triple what we paid.
From Whence Cometh My Help?*
My summertime landscaper had the bad grace to return to school a week ago.  His mother misses him terribly.  So do I, but for different reasons.  Well, I'll let Liberty University feed him for a few months.  Now its on me to mow and trim the lawn/weeds.  I estimate about another half-dozen cuts before autumn sets in.
What else? Wash off the back porch. I built it, now I have to clean it.
Take a wire brush to the grill. Finish leveling the dry-stone wall around the beds. The ground never stops shifting. We must have a dragon rolling over in its sleep in the earth beneath our house. We're like Winterfell that way. That's my working theory, anyway.
Purchase mums. You know, because… Autumn.
The shed. Really need to organize the tool shed.  That may have to wait till we're a little deeper in the season.
Family dropping by on Monday.  Not cleaning off that grill for nothing.
So, what are you doing this Labour Day weekend?  Vacation?  Staycation?  Chores and Projects?  Since you've stopped by, leave a comment.  Feel free to share tips and ideas and if you have two minutes to spare (literally, two minutes) stop by my Youtube channel.
*Psalm 121 – check it out!