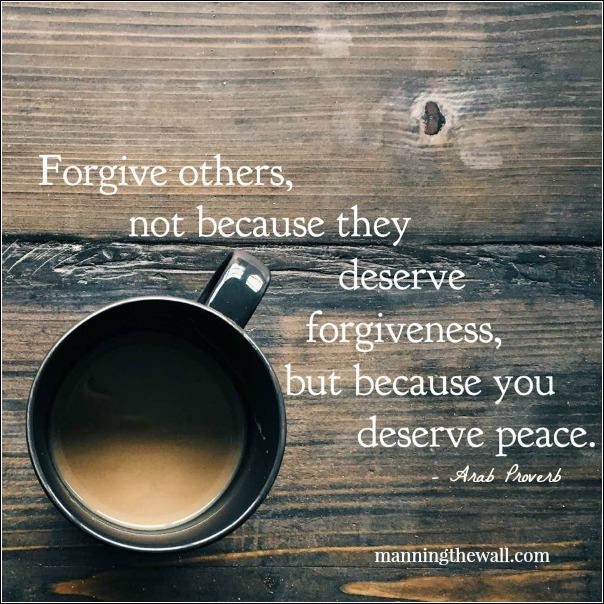 The Spirit hungers…
Why is it so difficult to forgive, particularly those who think and act as though they've done nothing wrong? Why are we triggered to offense, in some cases quite easily? In a word – Pride.
We all want respect.  It is in our nature to crave validation.  We want recognition for our efforts and for our achievements.   We need for our existence to have some value beyond ourselves, and when we perceive the desired validation lacking, it can cause a draining disharmony of the spirit.
Pride cripples…
Proverbs 16:18 remains one of the most paraphrased scriptures. We've all heard it. 'Pride goes before the fall.' A full reading in the King James is as follows, "Pride goeth before destruction, and an haughty spirit before a fall." The term 'haughty spirit' also appears in the New International Version. Haughty Spirit. I want to reflect on that.
The American Heritage Dictionary defines 'Haughty' as scornfully and condescendingly proud. The Bible warns of this throughout the Old and New Testaments. Passages speak of entire peoples who are taken to task for their prideful or haughty attitudes.
Pride is among the most destructive sub-sets of disobedience. It dissolves marriages. It estranges parents from children, brothers from sisters, and breaks up friendships. It has ruined and will continue to ruin more relationships that any single factor. We all know of friends and relatives who are not on speaking terms with each other and have been in that state for so long that no one can remember the original conflict.
We all think our cause is just. We all experience the frustration of, "If I just explain this again," only to meet with implacable resistance. What can I say? Some people just don't want to hear our magnificent logic regardless of your pipeline to the Almighty.
Pride will cause you to withhold forgiveness. And in doing so, will eat you from the inside until there is nothing left but a husk whose only purpose is to serve as a vessel for bitterness. So if only in our own best interest, we need to let go – or as Paul wrote in Philippians 3, 'forgetting those things which are behind.'
As we forgive those…
I have had my own struggle with pride. I have gone years waiting for people close to me to come around. Perhaps you have too. In which case, please let me tell you that there are few exercises so futile. In Matthew chapter 18, Jesus gives clear instruction on conflict resolution. Why we don't apply this more often could be a series of Sunday morning sermons.
The over-arching example from my own life was my father-in-law, Pastor William J. Behr.  People who knew him will tell you that among his many characteristics, what truly stood out was his humility.  He had a perspective which struck everyone with admiration.  And it was this perspective which drove his relationships.  In the scope of eternity, life is short.  Too short to allow petty grievances and self-conceit to govern us.  If a member of his congregation took offense, or threaten to leave the Church, Pastor Behr would go to them, seeking reconciliation.  His authority as Senior Pastor mattered little when compared to the soul of one of his flock.  Words fail me in describing just how much I miss him.
If not for double standards…
As Christians, we have stratospheric standards for each other. Wives expect to be loved as Christ loved the Church. Husbands expect to be submitted to and won over without a word by their wives behavior. Perhaps its time we concede that we are all deeply flawed human beings and begin with that premise as our baseline for dealing with each other. Sky-high standards for the behavior of others will always – repeat, always – lead to disappointment.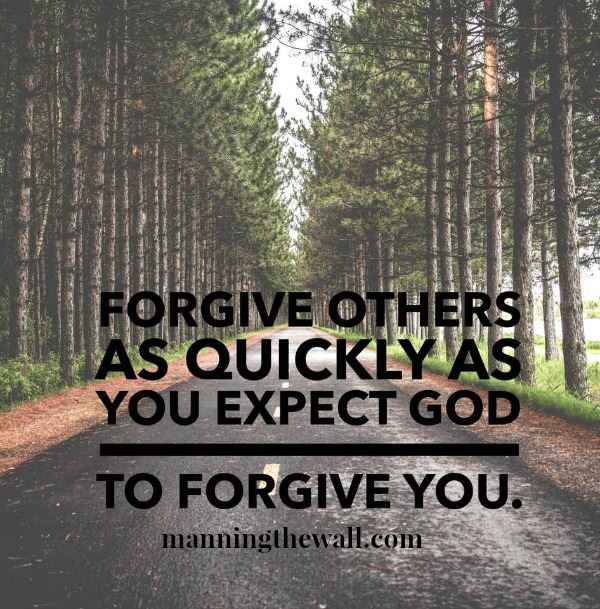 Conclusion.
In Matthew chapter 6 Jesus leaves no wiggle room. We have a mandate to forgive. There is no burden placed on the offender. Jesus does not address the justification of the wronged party. We are simply instructed to forgive. Narrow road – it up to us if we remain on or step off.
Finally, it's useful to bear in mind that while you have high standards for your fellow Christians, they have equally high standards for you.
Selah, baby.
In case you missed the first post in this series, you can read it here.