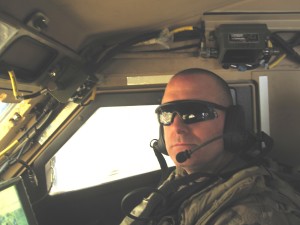 Where do I begin?
I am a follower of Christ, human, deeply flawed, and saved by His Grace.
I am a husband of 25+ years and get to share my life with an amazing woman.
I have two children both of whom have grown up way too fast.
I hold the rank of lieutenant colonel in the United States Army Reserve with 3 tours under my belt – one in Iraq and one in Afghanistan, and I serve on the board of my local church. At the end of each day I come home and help my wife with our blogging business Walking on Sunshine Creative Services.  
I have a sister who is an absolute rock.
I have a brother and three brothers-in-law, all of whom I admire and around whom I feel completely inadequate.
Life has held some harsh lessons, many of which I learned during the recession of the early 90's when I held it together with four part-time jobs.
I have worked for the most angelic as well as the most disgusting people you can imagine, all of whom were my teachers.
One of my biggest lessons so far: The journey is the point.